Location & Surroundings
Idylic and central, is that even possible? We say the surroundings area mirrors "a fairytale" and the hotel´s location is "paradise". But you are welcome to see for yourself.
In the boarder triangle og Germany - Austria - Switzerland, between the Lake Constance and the Castle of Neuschwansteinyou find it, "Dein Engel", surrounded of green meadows with a wonderful view to the Alpes. Enjoy the big garden with sun islands - balm for the soul... or discover the golf course of Oberstaufen, right at the front door. The distances are short, despite of it´s idyllic location - that´s what our guests estimate. The centre of Oberstaufen is a 15 minutes walk, but we also offer you a shuttle bus service, free of charge. And for our guests who arrive by car, we have enough parking space.
If you want to explore the surroundings: in a few minutes you reach the wonderful Alpsee. "Lädine" is waiting for you, the "Santa Maria Loretto", a historic sailing ship, invites you for a cruise. Don´t miss this unique experience.
The lake of Constance isn´t far away - and all for a sudden, all otions are open: Switzerland, Austria or Liechtenstein? Stroll around, enjoy, discover.
And what´s about the idea to discover the world from above? A flight in a Zeppelin, combined with a visit to the Dornier museum in Friedrichshafen. You can experience 100 years of aerospace history on 5000 m2: about 400 exhibits, including original planes, aerospace exhibits and reproductions at full scale.
If you visit the castles in Füssen and Schwangau, you make a journey through time. You will see the world famous castle of Neuschwanstein. Many mysterious legends exist around the rairy-tale king Ludwig II. History gets under your skin in the castles of Neuschwanstein, Hohenschwangau or Linderhof.
You search more adrenaline?
Visit the Heini-Klopfer ski flying hill of Oberstdorf. You get on to the viewing platform on the jump tower on the same way as the world elite of the skiflyers in winter, and you see the world from their perspective.
And for all of you who want even more thrill: Skywalk Scheidegg, Forest Climbing Garden and Alpsee Coaster. It hardly can be faster and higher.
The possibilities to experience the Allgäu are nearly unlimited. For further details, tipps and specials, please ask one of our "house-angels".
What´s the weather like during the next days?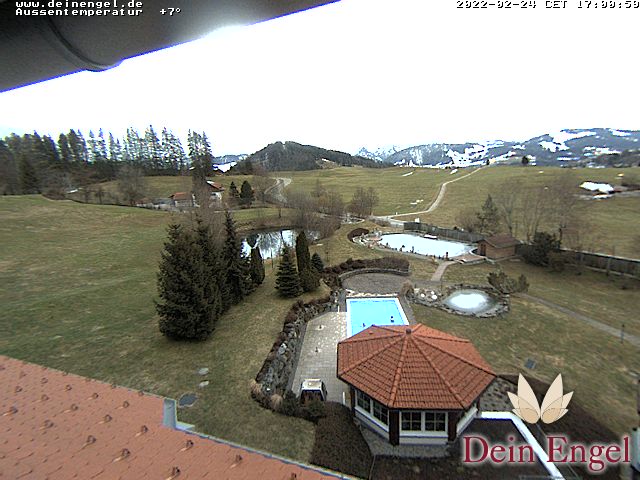 You are close to us and always up-to-date on what´s happening!
Your holiday starts with the journey to the Allgäu. With our directions to the Allgäu and the exact location of "Dein Engel", that won´t be a problem